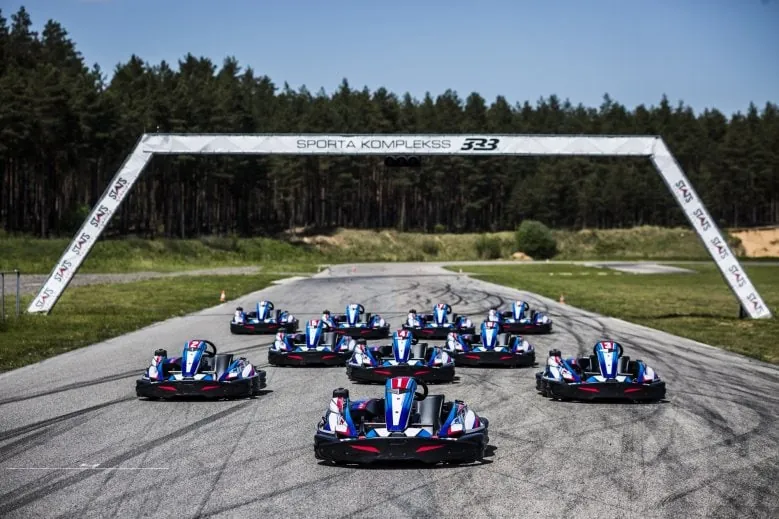 333 is a multi-functional auto sport leisure and training complex just 20 min drive away from Riga center. It is a great place to spend time with your friends and family! Activities in the sports complex 333 take place throughout the year. This is a paradise for all speed, adrenaline and active leisure fans!
Rental Go-Karts
The go-karts will be suitable for professionals as well as beginners. With up to 40 new generation Sodi go-karts for children and adults sports complex 333 has the largest range of rental go-karts in the Baltics. We offers two types of adult, child, winter and even double seat go-karts! To have even more fun driving – it is possible to arrange your very own race!
Safe driving
First in Nordic Europe and the only one in Latvia – the 333 Safe Driving Range. It is made of four specially designed areas to simulate extreme road traffic situations like aquaplaning, skidpad, agility, reaction and offroad.
4x4 Offroad park
The only purpose-built offroad park in the Baltics. It will be suitable for casual drivers as well as offroad enthusiasts. It features slopes of horizontal and vertical steepness, sand, mud and water roads, as well as forest safari drive.
Sport driving
Race driving and adrenaline in safe conditions! Start with a sporty street car and continue to a professional racing car and special supercar prototype – Radical SR3! Learn race driving skills under the supervision of professional racing drivers.
Wakepark
Active leisure at the beach with family and friends. There are SUP boards available, as well as beach volleyball, a picnic area and camping houses.
Jet Ski
A dose of adrenaline on water. Offering Jet Ski Sea Doo, Freestyle Jet Ski, Water Jet boarding.
Motocross, Enduro
Purpose-built motocross park and the only Hard Enduro track in the Baltics.
Events
Over the last years, 333 has become home for various races and events like festival PLAYGROUND, as well as the Northern Europe Rallycross and Sodi World Series go-kart races.
333 CAFÉ
Warm and welcoming atmosphere, delicious food and a view of both tracks of 333!