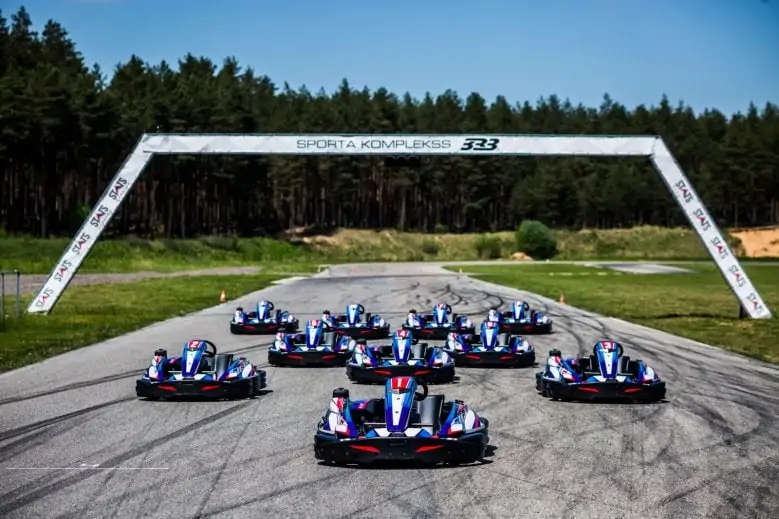 333 is a multi-functional auto sport leisure and training complex located just a short 20 minute drive from downtown Riga. The complex is open all throughout the year, where activities can be enjoyed also on a seasonal basis. This is paradise for those who love speed, adrenaline and active recreation!
Rental go-karts
333's go-kart track offers go-kart services for professional drivers, as well as amateurs and first timers. The 333 sports complex has over 50 modern Sodi go-karts to its disposal - both for adults and children, and has the largest go-kart park in the Baltics offering the widest selection of go-kart services. The track offers two types of go-karts for adults, as well as go-karts for children and even two-person go-karts. During the winter season, it is possible to take a go-kart ride on an ice track. It is also possible to make the visit more exciting by organizing and participating in competitions.
Safe driving
The sports complex is also the first in Northern Europe and only one in Latvia to offer a safe driving training area, which features four tracks which simulate extreme driving conditions - slippery conditions, hydroplaning, unexpected hurdles and other elements.
Off-road track
The off-road or 4x4 park is the only such closed track in the Baltics, offering off-road conditions for 4x4 vehicles as well as a varied road covering - sand, mud, gravel etc. Those taking a ride on the track will encounter sharp slopes, various water hurdles, mud, ditches, pot-holes and other tests.
Water park
333 also offers a water park for adults, as well as for families with children. The water park track features 68 different hurdles, a Tarzan trampoline, balls and other trampolines. The adjacent beach area also offers visitors to enjoy a tasty meal or refreshing cocktail. SUP boards are also available, as well as two volleyball fields and special picnic zones.
Camping
An accommodation zone featuring camping cottages for those spending the night a the leisure complex.
Motor-cross and endurance track
A closed motor-cross park and the only hard enduro track in the Baltics.
Events
333 is the perfect place to organize various events or competitions, children's parties, bachelor/bachelorette parties, team building events, as well as corporate sports events, presentations or training.
Various events are held at the sports center during the year, including the Playground Festival, the Rotax Nordic Challenge go-kart competition and other activities.
333 CAFÉ
The cafe features a cozy atmosphere, where it is possible to enjoy a tasty meal inside the cafe, as well as on its outdoor terrace. A view of all the complex's track can be seen from the cafe's terrace.