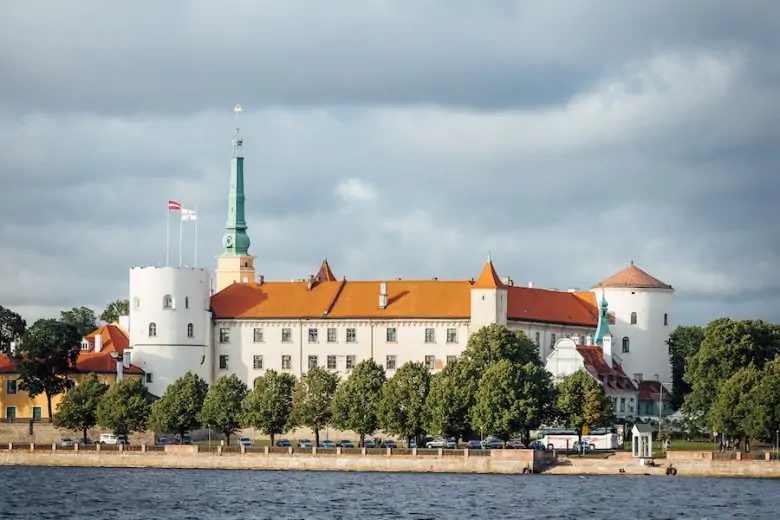 Riga Castle has stood on the right bank of the River Daugava for more than 700 years. Through the centuries, it has seen severe destruction, numerous rulers, and wars. Today it houses the residence of the President of Latvia.
The foundation stone was laid in 1330; however, due to constant battles with Rigans, the castle was destroyed several times. The last major reconstruction took place in 1515. From 1330 to 1562, the castle served as the residence of Master of the Livonian Order. The following centuries after dissolution of Livonian feudal states, Riga Castle was taken over by Polish, Swedish and Russian administrations and institutions. In 1922 it became the residence of the President of the Republic of Latvia; while during the Soviet Era the castle housed the Young Pioneer organisation and became known as Pioneer Castle.
Initially, Riga Castle featured regular planning and three small towers at the corners. In the 15th century, two round towers were added — the Tower of the Holy Ghost and the Lead Tower, which now hold the Flag of Latvia and the Standard of the President.
Riga Castle is a typical sample of late Classicism architecture. The building of the Riga Castle has been very plain from the very beginnings; this can be explained by the military nature of the castle and its constant destruction. The ground floor was foreseen for household needs and the castle guard, the first floor accommodated apartments, and the second floor was the arms floor with narrow windows once used as cannon holes. The spacious basement features underground passageways.
The last significant reconstruction took place in early 20th century under the direction of architect Eižens Laube. The entrance hall was updated, a spacious and splendid Festival Hall was built and the Three Star Tower was constructed. President's apartments in the Riga Castle occupy most of the castle-front building constructed during the 16th century.
Riga Castle, just like any other ancient castle, has its own legends, and a Ghost no one has seen to this day. Only furniture is heard moving. Once upon a time, people observed a strange sign which forecasted the future of Livonia. When Polish King Stephen besieged Polotsk in 1579, a stark flew to Riga Castle to build its nest where a raven had lived for dozens of years. After a month-long fight, the raven was driven off. Wise people said that the raven symbolized German rule and the stark — Polish, which took Livonia over after defeating Germans.