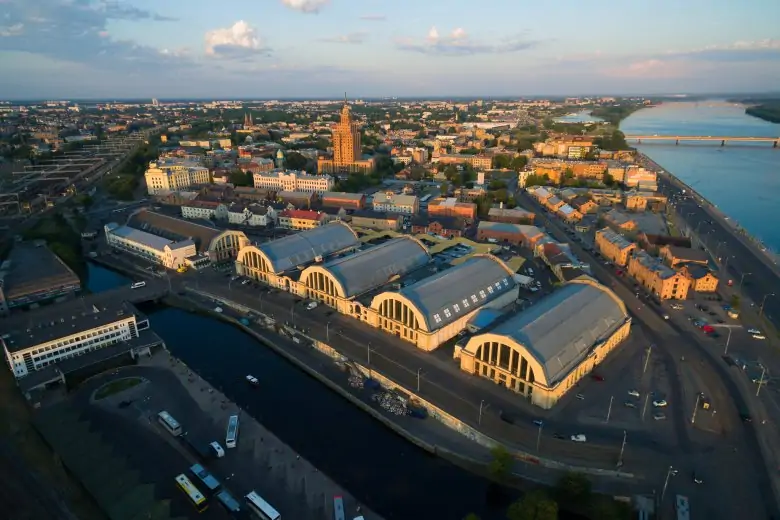 Tourist guides in many cities are forced to explain that, "once, in this spot, there was a market!" In Riga we can proudly scratch the "was" and say "is"! A huge one, downtown, on the banks of the Daugava.
The Riga city leadership held the first discussion about the need for a main market way back in 1909, but WWI delayed fruition until December of 1922. The legislation was pushed through on construction of a central municipal food market as the existing one had become too small and limited. The job was completed in eight years.
Construction got underway in 1924, and the edifices used as the various pavilions, that give the Market its unique look, initially were built in Vaiņode (Kurzeme) as hangars for German army zeppelins. Before they were set in place, a two hectare large area - the size of a town - was constructed as a lower level with a walkway 337 meters long. 27 ice boxes accommodated goods up to 310.00 kg till 1938. A lift operated from the lower to ground level.
A grand opening to mark not only the "largest, but also most modern, and the best" greeted the new Riga Central Market in 1930. The location - the heart of the city, often referred to as the "belly of the city".
During the war, the Third Reich made use of two pavilions as an automobile repair shop, and nearby was a large area where firewood was stored. In 1949, Central Market was renamed the Central Kolhoz Market, and the Soviet press lavished much praise for it, calling it the best in all of the USSR.
Statistics from 1961 showed that annually 200,000 tons of meat are sold, 768,000 liters milk, 7 million eggs, 9 million tons of potatoes, over 8,000 tons of vegetable and greens, and about 5,000 tons of various fruit.
In all periods of Latvia's history, the Central Market has symbolized well-being and prosperity. Never has it been left wanting; here we have the widest array of fresh catch from Latvian waters, baked goods, fruit and vegetables, herbs and spices, honey, peanuts, almonds and more. The Market satisfies with a huge variety of household goods, cut flowers, potted plants, and homemade handicrafts.
One could certainly say about the Market: "that's entertainment!" It takes you into a whirlwind - a gabfest with often raucous laughter, a multi-faceted world. Any detractions anyone may have vanish as it is perfectly clear that with each year the Market is more pleasant, tidier, forthright, responsible and modern. The shopping populace responds as they know that this is THE place for healthy and high quality food products, a place for impressions about Latvia's gastronomic culture, also trade and retail.
Having weathered the rocky rebirth of capitalism, Riga Central Market is flourishing once again, attracting virtually one and all, because here, smack in the heart of the city, you can find and buy practically everything but especially products and produce straight from the farm.
In 1997, UNESCO honored the Market (as an integral part of Old Town) with a slot on the "World Heritage" List.
The Central Market has a magnificent aura, with its eye-catching pavilions and huge area. The grandiose pavilions can be looked upon as the framework that forms the shape and order of the Market. Of course, without the vendor-customer correlation, there would be no Market. As long as this correlation briskly exists, marketing remains as easy as pie and no winds, no rain or cold can hamper it.
Latvian taste
Following the winter doldrums, spring starts to sprout, and practically everyone desires "freshness" - and it appears gradually on the stands set up at Central Market. The seasonal switch here is marked by birch sap juice, sprouts, spring onion and radishes, also rhubarb. The Market will welcome you with juice, cottage cheese, with greens, that we suggest you enjoy along with marinated herring or smoked cheese. Don't miss the fresh cheese, sweet and salty, mild and aromatic.
There is no summer without berries, at least not in Latvia. Stock yourself full of vitaminized preventive 'medicine' the natural way, and you will be more than ready for the autumn chill. Afternoon snack Latvian style is warm whole wheat bread with honey, fresh berries with milk. But here at Central Market, you can also enjoy 'exotic' fruit that go down just fine with delicious homemade cookies, all natural.
The taste and flavor that is northern Europe is perfectly clear in the apple, pear and plum harvest of local growers - that are markedly different from Polish or Hungarian counterparts.
You simply must try the juices! A hefty aroma and rich bouquet are the thing for apple juice, but for a refreshing energy drink, try blackberry juice. Chokeberry juice will serve as a sedative, but the buckthorn is for 'get up and go'! No preservatives, no pasteurization are an added value. If you have a sweet tooth, don't pass the stands with various types of honey. Take the linden leaf variety for a much milder taste, compared to, let's say, bold heather honey.
A stroll through the Meat Pavilion (with a tasty snack) is last, but not least. Frankfurters, smoked and dried meats, pate, dill pickle and rye bread.
Wintertime features foodstuffs that are filling, and farmers know what's best, also finding Vitamin C where no one else would even imagine. Sauerkraut - a calling card for the winter Market, is a good source, and we suggest you taste-test that one that is right for you.
Rye bread, smoked fish, grilled lamprey, veggie chips, candied peel, piping hot green tea with honey - all waiting for you - Latvian taste on a cold winter's day.
Until we meet again - in the most colorful sight in town - the Central Market!
The best of the Market:
fresh and ecological products from Latvian farms;
widest variety of products in Latvia;
affordable prices;
bargaining option;
assortment of souvenirs.
To try:
hemp butter;
draft kvass;
smoked fish and meat;
eco-bread (rye);
lightly salted pickle;
freshly made cheese.