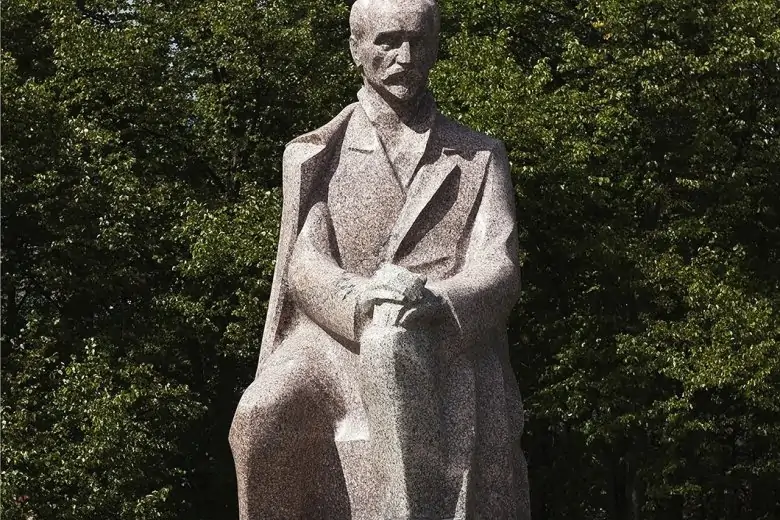 Jānis Rainis (1865 — 1929) was an outstanding Latvian poet, playwright, translator, and politician. The monument to Rainis has been erected in the heart of Riga, where Poetry Day events are held annually on the poet's birthday on September 11.
Rainis (the pseudonym of Jānis Pliekšāns) studied at the Riga City Gymnasium, the University of St. Petersburg, and worked for the Riga newspaper Dienas Lapa. Among his highlights are Latvian translations of Goethe's Faust, Shakespeare's King Lear, Schiller's Mary Stuart, Lord Byron's Cain, and others.
Rainis was an active participant of the 1905 Revolution. He has written several works on this theme. With the failure of the Revolution, he emigrated to Switzerland together with his wife Aspazija, settling in Castagnola, a suburb of Lugano. As an émigré, Rainis wrote plays Zelta Zirgs (Golden Steed), Indulis un Ārija (Indulis and Ārija), and Spēlēju, dancoju (I Played and Danced), which examine issues of national independence, personal freedom and ethics through traditional Latvian characters.
Rainis and Aspazija returned to Latvia in 1920. Rainis, as a member of the Central Committee of the Latvian Social Democratic Workers' Party, resumed his political activities and was a member of the Constitutional Assembly of Latvia and Saeima (Parliament). He was a founder and director of the Riga Daile (Art) Theatre, director of the Latvian National Theatre, and a minister of education.
Rainis is an author of several now-classic children's poetry books. All his writings have been released in several complete works and have been analysed by Latvian literature researchers since the 1930s up to today.