As in most great love stories, feelings for Riga will emerge gradually in winter. Winter days will be gloomy, but they will be beautifully overcome by a number of magical moments - walking through snow-covered parks illuminated by light installations, sipping a hot drink and tasting roasted almonds at the Christmas mark, which, by the way, entered the TOP of the best Christmas markets, and of course, let's not forget about winter joys in the fresh air.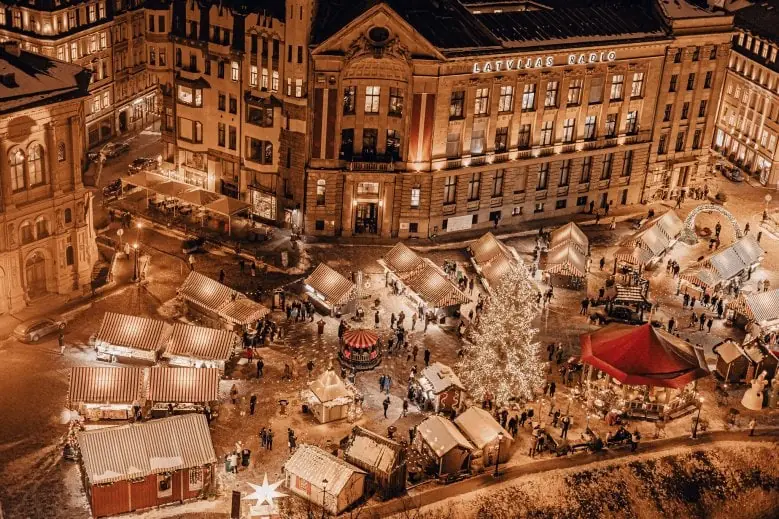 Christmas markets
Traditional Christmas market
Weeks before Christmas are a particularly lovely time to be in Riga. In a traditional Christmas market, which will be open from December 3rd until January 7th at Dome Square, mulled wine becomes the drink of choice as the aromas of cinnamon, ginger, and roasted almonds fill the air. This year, the Riga Christmas market will be even more amazing than ever. Here you can find vendors from whom you can purchase one-of-a-kind gifts, as well as a variety of mouthwatering traditional and street foods and specialty cocktails. Folklore ensembles, musical groups, and DJs will also be performing here, and there will also be workshops with Santa's little helpers. We would also like to proudly note that the Riga Christmas Market has entered the top of Europe's best Christmas markets and is recommended as a fabulous destination for winter holidays!
Working hours:
Mon-Thurs: 11:00 - 21:00, Fri-Sat: 10:00 - 22:00, Sun: 10:00 - 20:00
Christmas market at Kalnciema Quarter
In December, the Kalnciema Quarter will host an enchanting Christmas market, welcoming visitors every Saturday from 10.00 to 16.00. This market is widely known for its special festive atmosphere, which will bloom in all its glory during Christmas. Delight in unique, top-notch, and aromatic gifts, alongside comforting mulled wine and heartfelt reunions. Exciting activities and surprises for the little ones will add to the magic, promising memorable weekends throughout the merry month.
Āgenskalns Christmas market
Renovated and impressive Āgenskalns market building has a rich history and gripping stories to tell especially during Christmas time - you have to see it to believe it. Every Friday to Sunday in December, you will have the opportunity to find, feel and create your own interpretations of the myriad of wonders of the market. On the ground floor of the pavilion, vendors will be selling special themed festive treats, while on the second floor there will be an artisan and designer market, twinkling lights, live jazz and candlelight. Meanwhile, there will be lush Christmas trees and mulled wine available for purchase in the courtyard, while the glass-enclosed Greenhouse will feature different special events.
Working hours:
Ground floor Tue-Sat 9.00-19.00, Sun-Mon 9.00-17.00
2nd floor cafes Sun-Thurs 11.00-21.30, Fri-Sat 11.00-23.00, bars are open daily 10.00-23.00
The largest 3-day Christmas fair in the Baltics
Get ready for the grandest 3-day fair in the Baltics, just a week before Christmas, with free entry! Hosted in Riga at the International Exhibition Centre in Ķīpsala, this event will bring together over 500 traders, craftsmen, and businesses from Latvia, Lithuania, and Estonia. Explore an array of gifting options tailored to every taste, including wooden crafts, textiles, innovative gifts, winter delights, engaging games, and an extensive selection of books. Don't miss the diverse activities and entertainment for families, children, and young adults. Mark your calendars for December 15th to 17th and prepare for an unforgettable pre-Christmas extravaganza.
Riga's big Christmas market in Vērmanes Garden
Experience a sensory feast of emotions, aromas, and flavours alongside an exquisite array of gifts! Join everybody at the Christmas market in Vērmanes Garden on December 15 and 16, from 10:00 to 18:00 p.m. Discover a wealth of creativity as designers and artists from every corner of Latvia present their finest works, including stunning silver, leather, glass, and ceramic jewellery. Explore elegant home decor, natural cosmetics, and snug woolen treasures like gloves, scarves, hats, and socks. Indulge in a rich selection of candles and tantalizing delicacies for both everyday indulgence and festive celebrations. And don't miss the chance to savour our delightful Christmas hot beverage.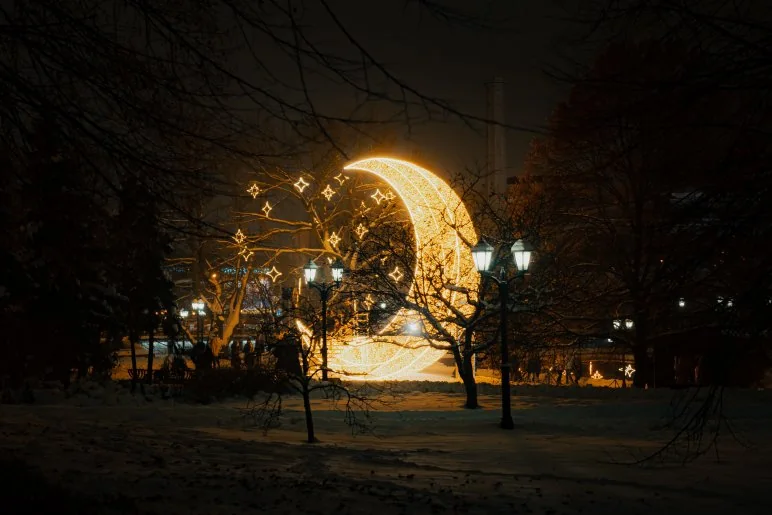 Light trails
If you are looking for reasons to visit Riga, Latvia, the light trails could be one of them. From December 3rd to February 5th will be a fantastic time to go for a walk in Riga's parks, where you will be able to see sparkling lights, which will make the seemingly gloomy winter evenings and nights brighter and warmer. Riga will light up in twinkling lights and through various light objects every visitor will be given the opportunity to find their own special Christmas feeling. Walking trails will shine in the city, which will allow residents of Riga, as well as guests of the city, to indulge in the peace, joy and wonder of being together. Various light objects and radiant trees that will delight not only the eyes but also the heart can be found in several Riga parks: Bastejkalns, Kronvalda Park, Opera Square and elsewhere. It is important to mention that Riga as a destination is also included in the list of the best Christmas lights in Europe. Keep in mind that these walking trails and city parks will undoubtedly be the places where you can take the most gorgeous Instagram pictures!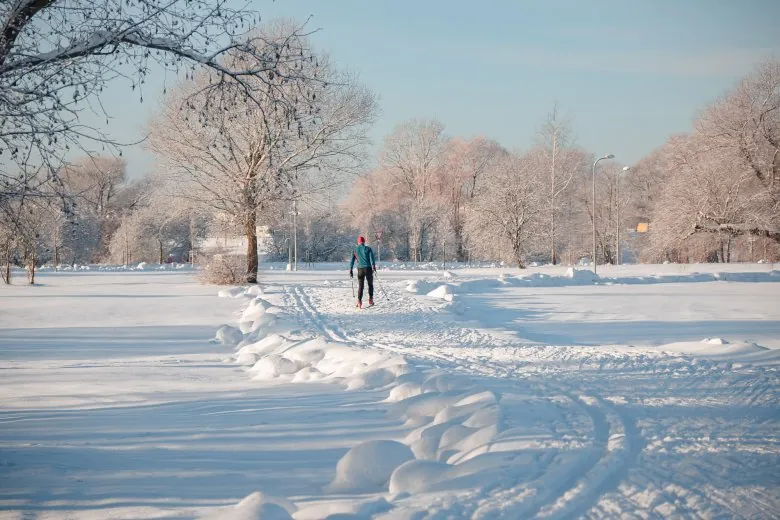 Active leisure
Refreshing dip
Embracing the exhilarating trend of the season, winter swimming in Riga energizes with the thrill of icy waters. Despite the initial shock, enthusiasts swear by its refreshing effects on both body and mind. The icy plunge is said to awaken the senses, boost circulation, and strengthen resilience. With more people taking the plunge, the tradition gathers a community of adventurous spirits seeking the ultimate winter thrill. As the icy waters embrace them, a sense of euphoria sets in, reinforcing the belief that this chilly ritual holds the key to a revitalized spirit and an unwavering zest for life.
Cross-country skiing
Though Latvia's terrain is notably flat, its winter landscape transforms into a haven for cross-country skiing enthusiasts. The ample snow cover blankets the region, creating ideal conditions for this beloved winter sport. Riga offers a selection of well-maintained skiing tracks, many of which are accessible free of charge: in Victory Park, Lucavsala and Purvciems neighbourhood near Riga Secondary School No. 84. Tracks in Lucavsala and Victory Park use artificial snow, which is possible if the air temperature is below -4 degrees Celsius. The track in Purvciems, on the other hand, relies on natural snow when the temperatures are below freezing for extended periods of time. Riga cannot wait to see you show off your winter sports skills, and don't worry about equipment as all the tracks have equipment rentals.
Winter skating in Riga
Being a hockey metropolis, Riga has indoor ice rinks accessible to everyone, with extensive equipment rentals. Skating enthusiasts can glide on the sparkling ice at Akropole Rīga (Maskavas iela 257, www.akropoleriga.lv), Kurbads ice rink in Rumbula (Lidlauka iela 37, kurbadshalle.lv) and Volvo Sports Centre rink in Imanta (Jūrmalas gatve 78d, www.volvoledus.lv). When the temperature drops below minus 2 degrees Celsius, the only public natural ice rink with equipment rental, located at Riga Secondary School No. 84 in the neighbourhood of Purvciems, is open on weekdays from 16.00 to 20.00 and weekends from 10.00 to 20.00.
Scavenger hunt games
Embrace the winter wonderland of Riga with a thrilling scavenger hunt by Roadgames. Explore hidden treasures in the historical heart of the city, and uncover the charm of remote districts such as Sarkandaugava, Bolderāja, Mangaļsala, and Āgenskalns. Sharpen your tactical and topographical skills as you solve mysteries, and capture the most picturesque moments for your Instagram feed. Gather a friend and embark on an exciting journey through Riga's wintry landscapes, where every twist and turn promises an adventure to remember.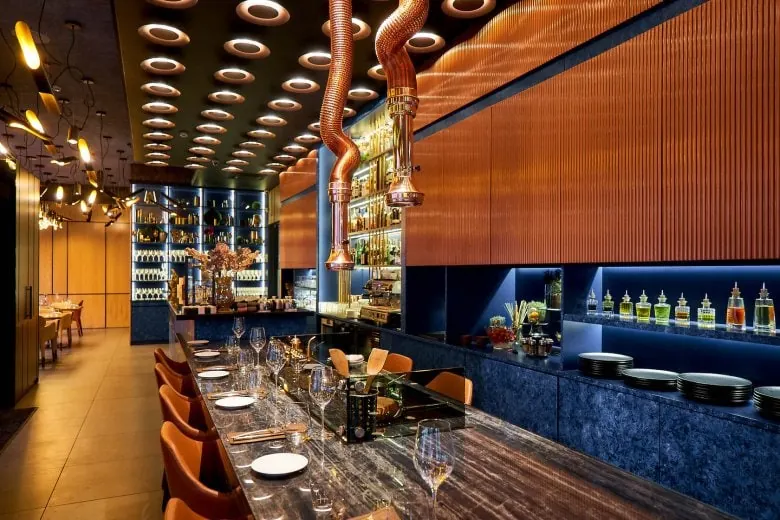 Taste of winter in a restaurant
It's no secret that love goes through the stomach. Use the opportunity to visit the best restaurants in Riga this year to experience their unique festive and winter special offers. Traditional Latvian dishes, classic European cuisine, or other world culinary masterpieces can help you better overcome the cold outside and will warm up even the biggest winter sceptics. When you enter the snowy Vērmanes Garden, go to the Whitehouse restaurant to warm up, but in the small and cosy streets of Vecrīga, the masterpiece of modern Latvian cuisine, the 3 Pavāru restorāns, the excellent seafood restaurant Barents and the cosy Kaļķu Vārti are hidden. Entresol, Chef's Corner and FERMA restaurants are definitely worth a visit in the city centre. Of course, these are not all the restaurants to enjoy this winter, so visit liveriga.com/visit for more information.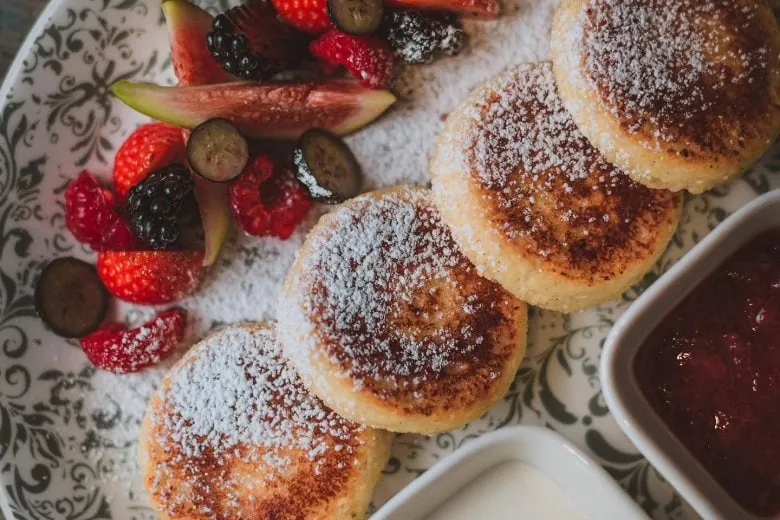 Cosy cafes
On a chilly winter day, there's nothing quite as delightful as sinking your teeth into a freshly baked, warm bun, a delectable cake that practically melts in your mouth, or savouring a steaming cup of tea. Take a well-deserved break and get cosy at one of Riga's charming cafes. You'll discover delightful pastries and other culinary gems at Mulberry Cafe. If you're exploring Old Riga, don't miss out on the scrumptious delights at the Cruffins patisserie, which has quickly become a local favourite. For a hidden gem in the old town, look no further than Parunāsim. Kafe'teeka! Craving both classic and unique flavours? Kūkotava is a go-to spot for the locals. And when it comes to sweets, Riga residents rave about the heavenly almond croissants at Mīkla Bakery.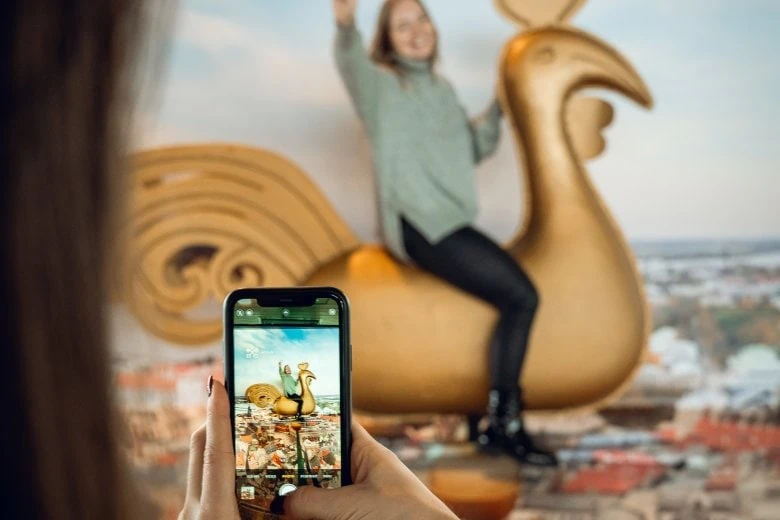 Instagrammable places
In the heart of Old Riga, the historical buildings, winding streets, and charming cafes make you feel like you've stepped into an 18th-century postcard. However, when the city is cloaked in a layer of powdered-sugar-like snow and adorned with festive decorations and twinkling lights in shop windows, it transforms into a winter wonderland. For those seeking the most Instagrammable spots in Riga, here are some picture-perfect locations:
Canalside and City Parks: During the holiday season, the canalside and city parks are bedecked with hundreds of strings of lights that create a magical atmosphere. The illuminated pathways provide the perfect backdrop for capturing the most beautiful Christmas photos.
Rātslaukum's Christmas Tree: No visit to Riga during the holidays is complete without a photo of the city's main Christmas tree located in Rātslaukums. Framed by the majestic House of Blackheads, the decorated Christmas tree here is guaranteed to result in some of the most luxurious and memorable holiday snapshots.
Jauniela in Old Riga: To find the most Instagrammable spot in Riga, head to Jauniela in Old Riga. The pastel shades of Jauniela's historic buildings are practically begging to be captured in your photographs, providing a visually stunning backdrop for your memories.
Riga City Rooster at the Airport: As you arrive or depart from Riga, don't forget to snap a picture of the iconic Riga City Rooster at the airport. It's a symbol of the city and makes for a memorable Instagram shot.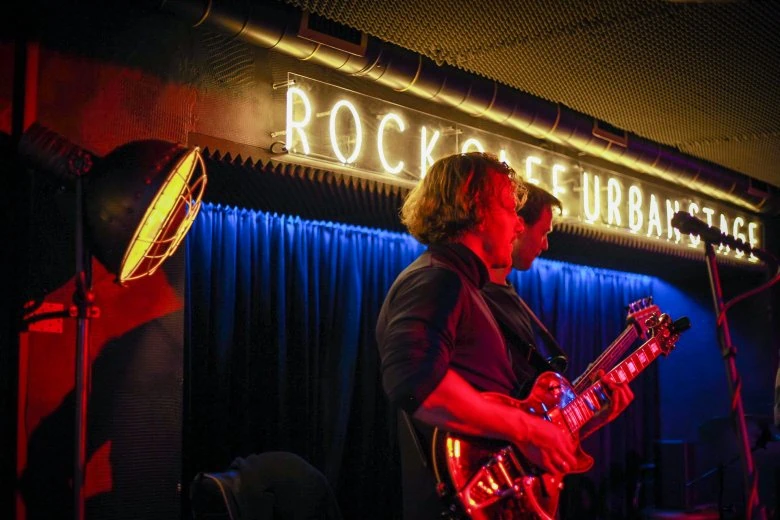 Enjoy live music events
In winter, life in Riga is bubbling in the indoor spaces of bars, restaurants and hotels, where those gathered can enjoy charming evenings of live music and who knows, maybe even show off their moves on the dance floor! Jazz lovers are invited to go to the concert venue M/Darbnīca, where talented artists perform several times a week, while free jazz concerts are held in the Radisson Blu lobby bar every Thursday from 20:00 to 22:00. Fun and Latvian-inspired dance and live music evenings are regularly held in the "Ala Pagrabs" Folk Club, while in the bars "St.Black" and "Sidrērija" you can enjoy various concerts - from romantic acoustic to rock music concerts. Find out about other current events by going to the Events section of the LiveRiga.com/visit website.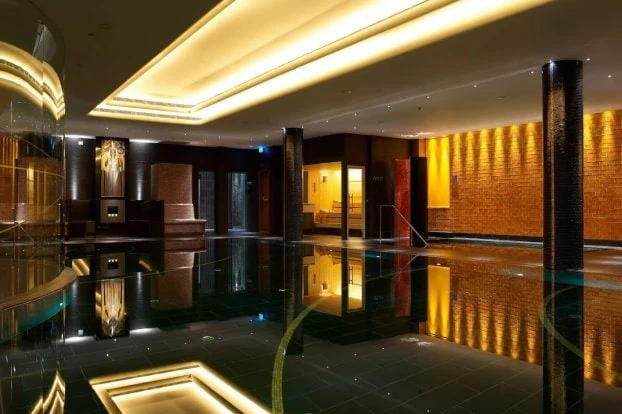 Pampering spa treatments
During the dark, cold months of the year, self-care is doubly important. Warm up your body for the remaining winter months in one of Riga SPA centres. From a soothing treatment at the Hedonic Spa or Wellton SPA Riverside spa to luxurious services at the Taka SPA and Kempinski Spa and total satisfaction in the extensive variety of ESPA Riga.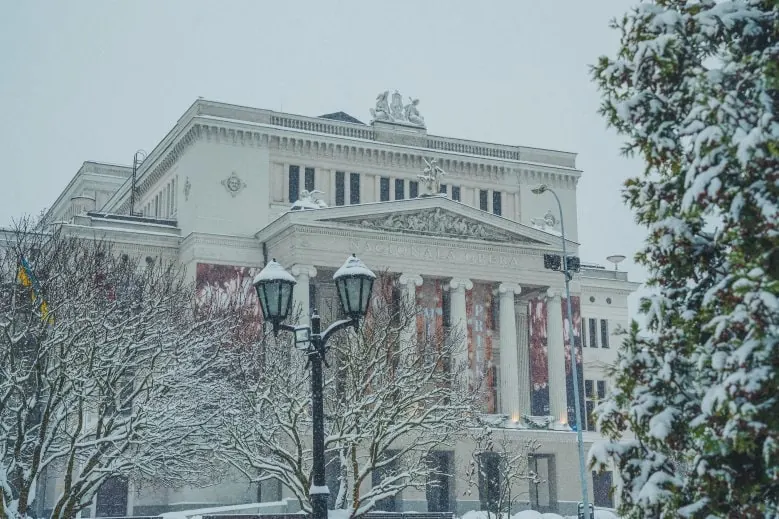 Culture events
Riga's winter event lineup is truly impressive, offering something for everyone! Music enthusiasts can look forward to an array of delightful holiday concerts, while art lovers will be treated to a diverse selection of exhibitions throughout the city. Even the opera and ballet scenes stay vibrant, adding a touch of warmth and grandeur to the holiday season. For more details on Riga's cultural happenings, be sure to explore our Events section.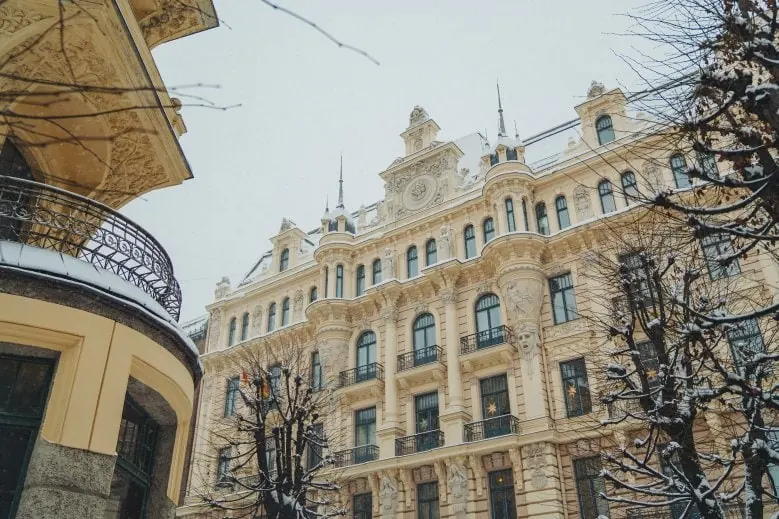 Winter architecture
During the Christmas season, Riga turns into a magical place to explore. The heart of the city, Riga Old Town, lights up with dazzling decorations and festive markets. You can't miss the stunning architecture, like the tall spires of St. Peter's Church and the grand Dome Cathedral. Walk through the streets to admire the beautiful Art Nouveau buildings. Cross the river to Ķīpsala to see charming wooden architecture that provides a lovely contrast. And to cap off your day, visit the modern and striking National Library of Latvia, where the holiday spirit fills the air.