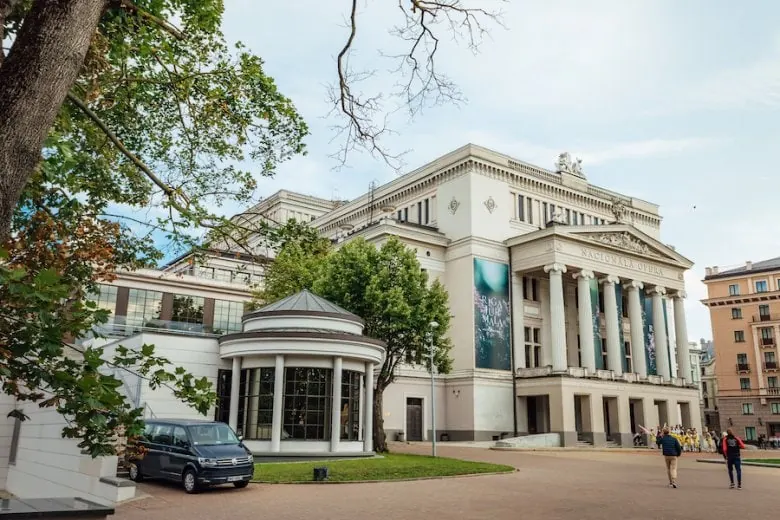 Riga White House - Latvian National Opera and Ballet has been operating on Aspazijas Boulevard since 1923. During the season, which runs from September to the end of May, an average of six new performances are staged, maintaining a balance between the opera and ballet genres. In addition, more than 200 performances and several symphonic and chamber music concerts are shown in one season.
The origins of the opera tradition in Latvia can be traced back to the 18th century, when the first musical performances took place in the Duchy of Courland, and the first traveling opera troupes appeared in Riga. Then, in 1782, the building of the German Theater of the City was opened, where both dramatic theater and opera and ballet performances took place, and the famous German composer Richard Wagner also worked there for a few years.

The beginning of the history of Latvian opera can be traced back to 1912 when the Latvian Opera started operating in Riga under the direction of Pāvuls Jurjānis. In the current Opera building, the Latvian National Opera troupe performed its first production on January 23, 1919 - it was Richard Wagner's opera The Flying Dutchman.

In the 1990s, extensive reconstruction and interior restoration of the Opera House took place, in which the historical interior was strictly followed, stylistically adapting the newly created premises. Finally, construction work was completed in 2001, when a modern outbuilding complex was completed, offering new premises for technical and creative staff and a unique hall with 300 seats to implement wide-profile art projects.